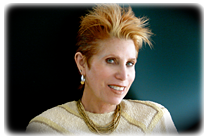 About Susan E. Schwartz, Ph.D.
Susan E. Schwartz, Ph.D. is a Jungian analyst educated in Zurich, Switzerland and is a licensed clinical psychologist. For many years Susan has been giving workshops and presentations at numerous local, national, community and professional organizations, and lectures worldwide on various aspects of Jungian analytical psychology. She has written several journal articles and book chapters on daughters and fathers, Puella, Sylvia Plath and has co-authored a couple of books.
She is a member of the International Association of Analytical Psychology, New Mexico Society of Jungian Analysts and the American Psychological Association. Susan maintains a private practice in Paradise Valley, Arizona serving people in the greater Phoenix area, Tuscon, Prescott and Cottonwood, West Valley, Scottsdale and Tempe.

No one who does not know himself can know others. And in each of us there is another whom we do not know. He speaks to us in dreams and tells us how differently he sees us from the way we see ourselves. When, therefore, we find ourselves in a difficult situation to which there is no solution, he can sometimes kindle a light that radically alters our attitudes - the very attitudes that led us into the difficult situation.